7 In-Depth Signs A Spotify Playlist Is Real Or Fake
Subscribe to our YouTube for more in-depth music marketing knowledge based on EXPERIENCE rather than opinion
Millions of artists have wondered, "How do I get more legit streams on Spotify?"
The operative word here is legit. 
Many artists have come across dozens of promotion companies all claiming to provide real streams, but unfortunately sometimes it's hard to tell what's real and what's not. 
This has led to a healthy skepticism from artists who do see the usefulness in landing on good playlists and attracting new listeners to their music, but aren't sure if the playlists or companies they're submitting to have botted (or fake) streams that are artificially inflating the play counts.
At Omari Music Promotion we've reviewed far more playlists than just about anybody and made our network of vetted curators available to artists through our promotion service at www.omarimc.com/promotion.
Given that we've promoted music for over 10,000 artists and run close to 20,000 individual campaigns, that's A LOT of researching and vetting playlist curators to ensure we provide organic promotion to artists. 
Here are the tips and strategies we've developed over the years to verify if a playlist is real or fake before letting them into our network of curators at www.omarimc.com/promotion.
The Social Media Ads Course We Give Out INCLUDED With Promo Purchases
We've spent over $557,000 on ads in the music business, and we give out our social media ads for musicians course INCLUDED when you buy any promo package at all at www.omarimc.com/promotion ($297 value). Packages start as low as $77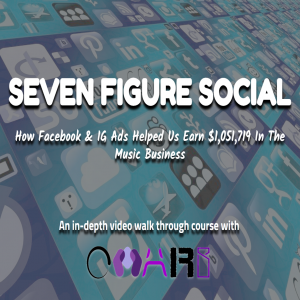 1. Playlist Title SEO
SEO stands for search engine optimization. 
In simple terms, is the playlist title one that ranks highly in search results for a relatively popular term listeners are searching for on Spotify or Google?
For example, a term like 'Summer' is going to be highly searched during the summer months on Spotify because people enjoy a good Summer playlist. 
This is evidenced when you search 'summer' on Spotify and click the playlists section to see all playlists ranking for this term.
The first couple rows of playlists will most likely be curated by Spotify, then a host of independent playlists will be ranking afterwards. 
You can also check for different popularities in search terms by using a keyword explorer like Uber Suggest. 
Uber Suggest will only give you the search volume from Google, not Spotify, but it's a start. 
Typically, you can just gauge how popular a search term is by how well the Spotify curated playlists are doing for that term because Spotify will usually list theirs first in rankings. 
2. Are The Lists Running Ads To Gain Followers?
Running advertisements via social media is another legitimate way to gain playlist followers on Spotify. 
Playlist curators can either run ads via influencers and pay them directly or can run ads via social media ad platforms. 
To check whether a list is currently running ads you can search the Facebook ad library. 
However, it will not show you previous ads a page has run, so it's entirely possible that a curator ran ads for some time before then stopped running ads after they gained enough following for their lists. 
3. The Location Of Listeners On The List
This one can get deep, so read thoroughly. 
In order to research the location of listeners from a list without first placing your songs on a list, you have to find an artist that doesn't have too many monthly listeners and is featured on a playlist. 
Try to find an artist that has less than 10,000 monthly listeners and is featured on independent playlists only.
You then head to the Spotify desktop app and click the about section on an artist profile. Look at the Discovered On section to see the Top 5 playlists an artist has gotten listeners from over the past 30 days. 
Next, check out the Where People Listen section on the artist profile. 
People with botted playlists typically have a tell.
They find major cities and allocate most of their listeners to the major cities. Cities like New York, Los Angeles, London, etc, but also throw in a mix of other smaller cities that don't proportionately make sense.
For instance, Buffalo, NY is a city botted playlists frequently use. Buffalo, NY has a total population of only 260,000 people, yet botted playlists will have upwards of 15% of the total monthly listeners for an artist coming from this single location. 
Moreover, botted playlists will typically have the top 5 listener locations compensating for nearly 50% of the total monthly listeners for an artist.
It can often make sense that larger cities would be in the top 5 most popular cities for an artist.
However, when you look at organic playlists or Spotify owned playlists, this percentage usually falls within the range of 5% to 20% of the total monthly listeners for an artist being attributed to the top 5 cities they were played in.
Now, this isn't a perfect science because an artist could have gotten on fake playlists one month, been removed from those playlists the next month, then placed on real playlists after, so be sure to look at the duration of time they were on the playlist by using the Spotify desktop app as well.
4. The Amount Of Followers Each List On The Profile Has
If a profile has a number of lists and they're all suspiciously similar in follower count it's usually not a good sign. 
For example, a profile has 10 playlists and every single playlist they own has over 50,000 playlist followers. Even for the lists that don't have strong SEO and you can't find advertisements running for the lists.
This usually means that the lists are botted and to stay away from them. 
You're usually going to see some variation in playlist followers per list on a profile because different search terms have more or less people searching for them if the lists are ranking for SEO.
Also, no two lists are going to perform identically when running ads from social media.
You're usually going to see quite some variation in list followers on an organic profile if they have more than one list.
Use this research method in combination with others listed here to verify this. 
5. The Follower Graph Of The List
We use a site called Spotontrack.com to see the growth chart of playlists. 
The playlists do have to be indexed into the site first to start tracking them, but after that it will show you how many playlist followers a list gains or loses per day. 
If you see a graph that has a random spike in followers one day then abruptly stops the next it's a sign to watch out for. 
The only exception to this may be when a curator pays an influencer to do a 24 hour story ad for them, but the channel would have to be very substantial in size to legitimize the claim that the playlist gained thousands of followers in one day then stopped after that. 
We usually look for a steady growth path.
6. Number Of Listeners Per Follower
This metric may be best to check once you're actually on the playlists via your Spotify For Artists app, but you can still guess at it from other artists while researching lists.
For example, if you're on a playlist with 1,000 total followers but you gain 4,000 streams within 1 month from that one list, that just doesn't equal the natural listening habits of people. 
Not every single person is going to play every single song from a playlist every single day.
You're usually going to see anywhere from 1% to 10% of the total followers of a playlist translate into streams when placed on a list. 
That would mean when you're on playlists totaling 50,000 followers, you can expect anywhere from 500 to 5,000 plays over the month. 
*If the list is running ads and is a newer list, this ratio could be higher.
Anything over that you can start paying attention to some of the other signs we've mentioned in this article. 
This is because playlists have dozens of songs on them and listeners follow multiple playlists for different moods they're in, but don't play every single list every single day. 
7. Save Ratio (# Of Saves Divided By # Of Listeners)
This one you do have to be on playlists to figure out. 
On Spotify people tend to follow playlists rather than following artists. 
When you're placed on a playlist and someone likes your song, they are much more likely to simply hit the save button than follow your channel. 
Once they save your song you're added to their Liked Songs library and have a chance of getting repeat plays in the future from that listener. 
As long as your song sounds decent, you should expect anywhere from a 2% to 10% save ratio on organic and real lists.
Why We Know All This & What You Can Do Next
Again, we know this information because we've researched more playlists than just about anybody you can think of. 
We've run campaigns for Spotify, YouTube, Apple Music, Social Media & more for over 10,000 artists. 
We ACTUALLY do all these services, not just talk about them. Which means we have the experience (not the opinion) of what is going on when you do each of them. 
You can find an affordable package to effectively promote your music at www.omarimc.com/promotion 
When your song is ready to go, it's time to start promoting it to potential fans! Omari has the best organic promotion services money can buy. With packages for Apple Music, Spotify, Social Media, and YouTube, we will get your music the traffic and attention it deserves! Click below for more information.