The Biggest Misconceptions About YouTube Music Promotion
Subscribe to our YouTube for more in-depth music marketing knowledge based on EXPERIENCE rather than opinion
If you want to promote your music on YouTube you NEED to understand these 2 main distinctions... 
There is a ton of misinformation and vagueness around promoting your music on YouTube and how it should be done. 
The bad thing about these myths is that if you're not as experienced with the subject, you could be fooled into thinking they're true. This would be harmful to your long term growth as a musician because you were misinformed about where to put your marketing budget.
Two Main Ad Types On YouTube
There are two main types of YouTube ad types you need to know: discovery ads and in-stream ads. 
As a company who's spent hundreds of thousands on YouTube and run THOUSANDS of music marketing campaigns, there is a unique advantage and experience we can offer.
Let's take a deep dive into the pros, cons, misconceptions, and truths about each of these marketing methods.
The Social Media Ads Course We Give Out INCLUDED With Promo Purchases
We've spent over $557,000 on ads in the music business, and we give out our social media ads for musicians course INCLUDED when you buy any promo package at all at www.omarimc.com/promotion ($297 value). Packages start as low as $77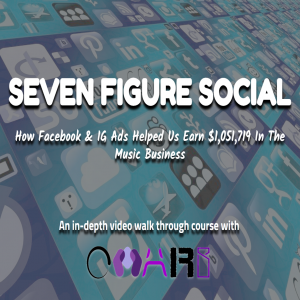 In-Stream Ads
The in-stream ads are the skippable ones at the beginning of the video. After 5 seconds, you can decide to 'skip' an ad you are not interested in engaging with or watching. If someone does not watch at least 30 seconds of your music video (given the music video isn't only 30 seconds long in the first place) you will not be charged for that view. and the discovery ads are the ones that show up in search results and the suggested video section. 
Pros Of In-Stream Ads
In-stream ads will typically yield a higher watch time for videos because it does not count as a view until at least 30 seconds of the in-stream ad has played. 

You will not be charged until at 30 seconds are viewed

You can get in front of your listeners regardless of whether they click an ad or not
Cons Of In-Stream Ads
In-stream ads are not good for engagement because there is no comment section or like button shown when the in-stream ad is playing

There is also no click-through link to the original video unless one puts a 'watch now' button to the original video link, which is redundant as the user is already watching the video

Artists often struggle with creating good in-stream ads because the usefulness of in-stream ads often depends on hooking the viewer within the first 5 seconds. 
Discovery Ads
Discovery ads are the ones that show up in search results and the suggested video section. They include your thumbnail and a headline that can draw users to click on the ad based on the image and text of the ad. Discovery ads count as views every time somebody clicks on the ad.
Pros of Discovery Ads
Have better engagement with comments, likes, and subscribers since users are watching the video on YOUR watch page

You know that the user at least had intent of watching your video since they clicked on it
Cons of Discovery Ads 
Typically have a lower avg. watch time since every click will count as a view regardless of if 30 seconds are watched

Have less reach than in-stream ads because a user has to show intent to click (this is not usually a problem until you're trying to get millions and millions of views)

Most artists didn't study copywriting as a career, and the effectiveness of discovery ads has a ton to do with both the music itself and the copywriting of the ad. Headlines like, "Check out this new single now," simply don't work well. This is why thousands of artists have come to us to run their YouTube promotions for them.
The Ads We Run Most For Artists
In short, in-stream ads are typically best whenever you're trying to get a conversion (such as a purchase or sale), while discovery ads are best for engagement.
Most artists are trying to get more engagement for their videos; thus, the discovery ads are better suited for that goal. 
One of the most useful things we tell artists is to run ads side-by-side with us and see who gets the better results. 
You can try out our YouTube, Spotify, Apple Music or social media promo by clicking the button below. 
Not to mention we give out our social media ads for musicians course INCLUDED when you purchase any promo package!
Common Misconceptions About Both Ad Types
No matter which ad type we run, artists often don't have realistic expectations on results for campaigns. The reason for this is because they assume that if someone likes their video, they will automatically become a fanatic of the channel. 
This typically does NOT happen after only viewing one song from an artist. 
Even if someone likes your song, you still need to coach them through the process of subscribing and engaging with your channel. 
As a general rule, we advise artists to tell someone to subscribe to their channel at least 5 times per video if that's the goal you're going for. 
"If they like it, they'll subscribe. I won't have to tell them," is extremely flawed logic used by people who don't really understand marketing. 
Another misconception is that you'll still receive just as much traffic to your songs even after you stop paying for ads. 
Unless you were promoting a cover song that is naturally getting a TON of searches AND you're ranking atop the YouTube search results for that term, don't expect to have perpetual traffic off of one round of ad spend. 
How You Should Allocate Your Music Marketing Budget
YouTube is a great option for marketing music given they have such a vast user count. As of right now, we still recommend slightly more marketing budget toward IG, but it could easily topple over to YouTube if you find you're having more success there. Here's what a breakdown might look like:
40% of marketing budget to IG (a little kickback to FB depending on your goals) 

20-25% of marketing budget to YouTube/Google

20-25% of marketing budget to Spotify Playlisting

The remaining budget towards testing on Apple Music or TikTok
You never want to build all your audience in one place, but you do want to allocate resources properly based on the pros and cons of each platform. 
The Biggest Mistakes We See When Artists Try To Run YouTube Ads
Aside from picking the wrong ad type, most artists aren't thinking like a marketer when they set up their ad. They're thinking like an artist.
In advertising, you have think about very specific details to get your desired end goal (i.e. a subscriber, merch sale, etc) 
Just because someone likes your music does NOT mean they're going to subscribe. 
Here's one tip: if you see an ad on YouTube and it makes you stop what you're doing and pay attention, then take notes about why that ad made you stop and apply some of the same principles to your music videos so you can get the same results. 
Why We Know All This & What You Can Do Next
Again, the reason we're so in-tune with this is because we've run THOUSANDS of campaigns for artists, not just talk about them. Which means we have the experience (not the opinion) of what is going on.
To grab YouTube, Spotify, Apple Music, or social media promo, check out our options at www.omarimc.com/promotion 
When your song is ready to go, it's time to start promoting it to potential fans! Omari has the best organic promotion services money can buy. With packages for Apple Music, Spotify, Social Media, and YouTube, we will get your music the traffic and attention it deserves! Click below for more information.